Staff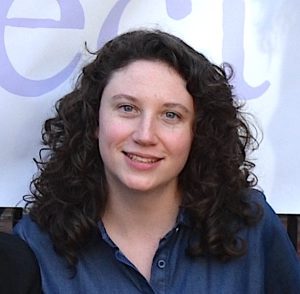 Meghan McNamara, Co-Founder & Executive Director, comes to the Octavia Project with over 15 years of experience in non-profit leadership and education. Previously, Meghan was director of programs at Girls Write Now, a nationally-recognized writing and mentoring program for NYC high school girls. After that, Meghan taught science, math, and writing to adults pursuing their high school equivalency diplomas in the Bronx and Manhattan. In this capacity she developed and taught science curriculums that built STEM literacy and confidence in adult learners, which she presented on regionally and nationally. Meghan has also taught video game design to middle school students in Brooklyn and raised funds for educational initiatives in India. When she's not working on the Octavia Project, you can find her reading science fiction, riding her bike around Brooklyn, or playing board games.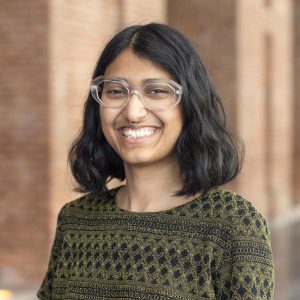 Ananya Garg, Program Manager, is an educator, writer, visual artist, and oral historian. She brings over 5 years of experience working at the intersection of education, writing, and the arts in many different spheres. In all her work, Ananya centers her belief that young people have all the power in their bodies to make art and build a better world, and that it's her job as an adult to offer them the support to do so. You can find Ananya's writing published in YES! Magazine, The Asian American Feminist Collective, The Shade Journal, and elsewhere. A queer South Asian woman, Ananya lives in Brooklyn, NY with her partner and dog. When she's not working with OP, Ananya can be found doing ceramics, printmaking cards for her chosen family, and drinking hot chocolate or lemonade, depending on the season.
Board of Directors
Andrea Gabbidon-Levene, Board President, is the director of the CUNY Start and Math Start programs at Hostos Community College. Andrea has more than a decade of experience in education and nonprofit management having worked at the Borough of Manhattan Community College, the American Institute for Social Justice, the Urban Assembly, and Girls Write Now in the past. Andrea started her career as a journalist and has been published in the Boston Globe, New Jersey Herald and CNN.com. Andrea has a B.S. in Print Journalism from Emerson College and a M.S. in Urban Policy and Management from the New School. A native of Long Island, Andrea is the daughter of Jamaican immigrants. She resides in Brooklyn.
Yahaira Gil Maestro is an accomplished professional with over 20 years' experience serving under-represented communities in New York City. Her work in single sex, all girls' education over the past 15 years focused on creating unique access opportunities to engage students and volunteers from a wide variety of industries. In her last role in the non-profit sector, Yahaira Gil-Maestro was the Director, The Young Women's Leadership Schools at Student Leadership Network leading programming that affected close to 3,000 students. Yahaira recently made the transition to focus on BierWax & BierWax Queens, two craft beer bars she co-owns with her husband, Chris Maestro. In this role, she primarily focuses on operational strategy, research, revenue growth, and staff development/support. Yahaira is an inaugural member of The Cru, a peer group committed to accelerating each other's personal and professional growth, and she is a 2019 Lead the Way Fellow, a professional coaching group for women of color. Yahaira is a first generation Dominican-American born and raised in Bushwick, Brooklyn. She is a proud mother of ten-year-old twin girls and enjoys spending time with her husband, family, friends, and dog Lando.
Kirthana Ramisetti earned her MFA in creative writing from Emerson College, and has had her work published in the New York Times, the Wall Street Journal, and more. She is the author of two novels, "Dava Shastri's Last Day," a Good Morning America Book Club Pick, and "Advika and the Hollywood Wives."
For two decades, Jessica Wells-Hasan, Board Secretary, has worked in fundraising, management, external relations, and operations at leading New York City non-profits. She has secured millions of dollars of new and increased funding for effective organizations working in social justice, education, youth development, the arts, and the environment, including at Barnard College, The Juilliard School, Theatre Development Fund, the National Audubon Society, and the Center for NYC Neighborhoods, where she is VP for Development & External Affairs. Jessica also serves on the boards of Trust Women and Young, Black & Giving Back. She is proud to have joined the Octavia Project in 2015 as an Advisory Board Member, 2016 as a BFF, and 2019 as their first Board Secretary.
Co-Founder
Chana Porter is an emerging playwright, speculative novelist, and education activist. Her plays have been developed or produced at The Flea Theater, Playwrights Horizons, The Catastrophic Theatre, La MaMa, Rattlestick Playwrights Theatre, Cherry Lane, The Invisible Dog, & Movement Research. Houston Press writes "Porter's type of risky storytelling is, well…. like a lion's roar in an all too often timid jungle." She is a MacDowell Fellow, a New Georges Audrey Resident, a Target Margin Artist-in-Residence, and the recipient of Honorable Mention for the Relentless Prize. She is currently writer-in-residence at The Catastrophic Theatre in Houston. She has taught her embodied creativity course Writing from the Body at University of Houston, Fordham University, Hampshire College, Goddard College, Weber State, and with Sarah Lawrence's Global Classroom. Her debut novel, The Seep, out from Soho Press and Brilliance Audio, with starred reviews from Publishers Weekly, Booklist, Library Journal, and Foreword Reviews. The Seep is an ABA Indie Next Pick for February 2020.
Advisory Board
Ximena Castillo "Two-faced? Nope. Mutable. A true Gemini through and through. A long advocate of being whoever I need to be to finish the task, complete the mission…get through lunch. Deceitful? Never. Adaptable, I say. New places, new faces, new minds, new times. Change is always hard, but I try to stay kind. I've taken Absolute Candor as my personal brand, lest the world be blind to where I stand." Ximena has earned her Bachelor's degree in Literary Studies and Creative Writing from The New School. She spends her time playing Dungeons & Dragons, Magic the Gathering, pickling all of the vegetables, 'finishing' a knitting project, tending to her plants, and star gazing.
Emmy Catedral is a Butuan-born artist and writer working in sculpture and performance. She teaches in the Curatorial Practice MFA Program at Maryland Institute College of Art, is co-founder of the mobile Pilipinx American Library, and occasionally DJs as Pers Lab. After serving as Printed Matter's Coordinator of Fairs & Editions from 2018—2021, Emmy has joined the team at Center for Art, Research and Alliances (CARA) as Curator of Public Programs.
Laura Cheung is a lifelong lover of books and as a child was frequently found under the dining room table reading. As Manager, Creative Services for Penguin Young Readers, Laura works with the cover design team and the marketing design team on project management and workflow. She is also a member of the Penguin Random House Diversity Council, working to amplify underrepresented voices in books. A graduate of Bard College at Simon's Rock (BA) and the New School for Social Research (MA), and having worked at NGOs such as the Global Justice Center and Girls Write Now, the Octavia Project's mission sits squarely at the intersection of Laura's interests in literacy, empowerment, and empathetic justice. Laura lives in Brooklyn with her husband and a dog named Rosie Donut.
Dana Chidiac is a senior editor at Henry Holt Books for Young Readers, an imprint of Macmillan. She edits picture books, graphic novels, and middle grade and young adult novels, and has had the pleasure of working with Tae Keller, Maya Tatsukawa, Breanna McDaniel, Sarah Kapit, Adib Khorram, Huda Fahmy, Joy McCullough, Gillian Goerz, Shane Evans, and Joseph Bruchac. Originally from Michigan, Dana was a children's bookseller at Politics & Prose in Washington, DC, and Harvard Book Store in Cambridge, MA and earned a master's degree in children's literature from Simmons College in Boston before beginning her publishing career at Dial/PRH in 2013. She joined Holt in 2021. Her favorite books feature unfamiliar settings and unforgettable voices that beg to be read aloud. Her favorite sports are Olympic swimming and middle school spelling.
Rocío Cuevas is a writer, lover of Latinx culture, and advocate of women's empowerment. She currently works as an Administrative Associate at STEM From Dance, where she manages donor cultivation, marketing strategies, and operational tasks. Prior to working at STEM From Dance, Rocío worked as an Administrative Coordinator at CUNY Start, a program that assists college students in reducing their remedial needs. Rocío also worked as Senior Writer for Brooklyn Savvy, a television talk show based in Brooklyn, where a panel of professional women discuss a variety of topics. Rocío hopes to use her writing to create a platform where women of color feel validated, safe, and inspired. She holds a B.A in Psychology from New York University, with minors in Creative Writing and Child & Adolescent Mental Health Studies. Rocío is a Dominican woman born and raised in Brooklyn, currently residing in Queens, NY. In her spare time she enjoys listening to podcasts, and watching CW TV shows.
Katharine Duckett is a speculative fiction author. Her debut Shakespearean fantasy novella Miranda in Milan came out in 2019, and her short fiction has appeared in Uncanny, Apex, PseudoPod, and Interzone, as well as various anthologies including Disabled People Destroy Science Fiction. She is the guest fiction editor for Uncanny's Disabled People Destroy Fantasy issue. She lives in Brooklyn with her wife and too many books.
ray ferreira b.1991 w h e n a m i a performer of sorts aka multidisciplinary artist aka polymath. She stays playin : the dance between materiality<->language through her body w h e n a m i where histories are made and remade. She plays with iridescence, text, rhythms (aka systems), to cruise a quantum poetics. Englishes, Spanishes, and other body languages spiral, dance, and twirl to create a banj criticality: that turnup w/the grls; that swerve past white cishet patriarchy. wh e n ami. She can be located museum educating at the Studio Museum in Harlem, as well as floating through other museum education departments. In addition, she develops curriculum at the Octavia Project, and freelances for various artists.
Tyler Hoyt is a research scientist, programmer, musician, and dancer. He is currently working in the departments of Environmental Design and Computer Science at the University of California at Berkeley, engaged in research to promote occupant-centric, energy efficient design. By impacting building standards and creating computational tools that help designers, educators, students, and researchers, he hopes to reduce the environmental impact of buildings while enabling the design of comfortable spaces. Before working at Berkeley, he earned a B.S. in Mathematics from UMass Amherst in 2006 and an M.S. in Mathematics at New York University in 2008. Outside of his academic work, Tyler is an avid dancer and musician, and loves to explore ways that mathematics and computing can be used in the arts as well as science. Known to make websites on occasion.
Daphne Lundi is a Senior Policy Advisor with the NYC Mayor's Office of Recovery and Resiliency. Prior to that she was an urban planner at the NYC Department of City Planning focused on climate resilience and neighborhood planning. She was also an Environmental Planning Specialist for Pinchina Consulting where she worked on agroforestry and reforestation studies for a community-led planning project in Petit Goave, Haiti. Originally from Brooklyn New York, Daphne earned a B.A. in Sociology with a focus in Urban Studies from Wellesley College and a an M.S. in Community and Regional Planning with from the University of Texas at Austin. A self-taught garment maker, Daphne is also interested in clothing construction and design.
Stephanie Mendoza grew up telling everyone she knew she wanted to work in publishing. Originally from San Antonio, after graduating from university in Texas, she earned her MA in Publishing & Writing from Emerson College, and now works as a book publicist in NYC. She handles the publicity for a wide variety of genres, specializing in literary fiction and serious nonfiction, and loves introducing amazing fiction by debut authors to new audiences, talking up the novels of sophomore authors she loves, and bringing to light conversation-shifting nonfiction with the power to enlighten and better the world. She spends her days chatting with authors, doing her best to keep up with contemporary fiction, attending bookstore events and literary functions, and hanging out with her roommate's dog, Lucy.
Sunaina Rao is an educator and a life-long book lover. She works as the Community Relationships Director at Trail Blazers and earned her Masters Degree from The New School in 2016. She has worked with youth throughout her career starting with her time as a karate instructor and including two AmeriCorps years. With a background in Anthropology and Nonprofit Management, Sunaina seeks to encourage people-focused practices that acknowledge cultural differences and respect indigenous knowledge. Though she has read many important novels and texts in her years as an academic and and educator, she will always remember where she came from; her Nancy Drew and Fright Night books are perhaps the most important parts of her bookshelf.
Aviva Rubin works in multiple realms of architecture, including design, curation, education, and research. Currently, she is an Exhibition Design Associate at the Solomon R. Guggenheim Museum. She has previously practiced at Lynch/Eisinger/Design in New York, researched for exhibitions at SFMOMA, and taught at Harvard's Career Discovery and Boston Architectural College. With a Bachelor of Architecture from Carnegie Mellon University (2007) and a Master of Design Studies from Harvard's Graduate School of Design (2012), she believes that research can push design towards a more integrated approach to the production of space. In all of her work, she aims to merge the social and the architectural.
Bria Strothers is a writer, spoken word artist, performer, DJ and educator based in New Jersey. After graduating from George Mason University in 2016, Bria went on to begin her teaching career in New Orleans, LA where she taught middle school English and reading intervention. Upon relocating, she has been attending Pratt Institute where she will obtain her MFA in Creative Writing in May of 2020. She is currently a teaching artist for the New York metropolitan area and when she is not working with the Octavia Project, she is completing her first manuscript involving an intersection between Black speculative fiction, folklore and DJ performance. You may find some of her work published in Apparition Literary Magazine and The Felt. She is also a Cancer sun, an avid manga reader and anime enthusiast.
Louise Yeung (she/they) strives to envision and build a better world as an urban planner and visual artist. Louise currently serves as the NYC Comptroller's Chief Climate Officer, where she leads policy and organizing efforts to advance climate justice. Louise's creative practice is informed by her vocational work. Louise uses printmaking and bookbinding to explore relationships between people, plants, and animals who transform new environments to call home. Louise is a co-founder of Sunken Press 沉香出版, an art collaborative with Gloria Lau. Louise has been a teacher for the Octavia Project Summer Camp for middle schoolers and is thrilled be a part of the Advisory Board.